Cahoots Too Cookbook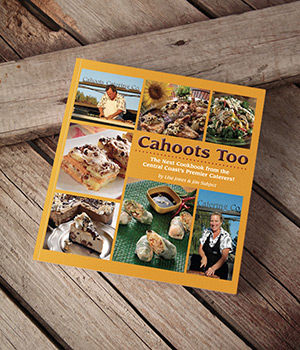 In their 23 years of collaboration, Lisa Jones and Jim Subject have established themselves as the premier catering company in the Paso Robles wine country, sought after for large winery events, intimate special occasions and everything in-between. This second cookbook brings more of the Cahoots experience to your table, serving up some of the most requested recipes that Jones and Subject have developed over the years for their café and catering company. Classic dishes range from "Grilled Skirt Steak," to "Salmon Wellington," to "Bread Pudding," and you can take your taste buds on a European tour with "Ravioli Carbonara," "Grilled Chicken Spiedini," and "Steak au Poivre." This cookbook also touches upon many contemporary culinary trends, from gluten-free, to vegetarian and vegan, to the current popularity of foods from Peru and Asia with recipes for "Empanadas with Ahi Panca Sauce," "Ginger Wasabi Scampi," and "Peruvian Quinoa with Black Forbidden Rice." In addition, longtime fans of Cahoots will be happy to see some of their (previously) best kept secrets on these pages, including "Cahoots Corn Chowder," Bistecca Alla Cahoots," and even "Lisa's Famous Thai Chicken Salad." In addition, whether you're an experienced cook or a novice, there are several basic "from-scratch" recipes that are handy to have around, including those for "Pico de Gallo," "Brioche Buns," and – a longtime Cahoots favorite – "Chipotle Mayonnaise." All in all, you'll find over 80 recipes that have stood the test of time – and, more importantly, the taste test of our clients, guests, friends and family. Whether you're looking for a quick weeknight meal, a "wow factor" dish for a party, or something for that special occasion, you'll find it within the pages of Cahoots Too.
---
Cahoots Cookbook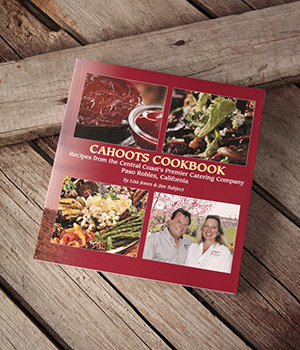 We are extremely happy with the success of our first cookbook. The cookbook has been very well received and is in it's second printing. Our customers have already been asking for the next one, which is in the works.
Our cookbook was published in May 2007 and made the Tribunes "Top Ten Best Sellers" list locally in June 2007.
This 172-page, full color cookbook contains over 80 of our most requested recipes, as well as helpful hints and suggested wine pairings. Cahoots Cookbook has something for everyone whether you just beginning to cook or a seasoned professional.